Space
NASA: Setting Discovery to Music

"Bloom tries to capture in music the poetry she imagines of soaring in space"
-- Fred Bouchard, Jazz TImes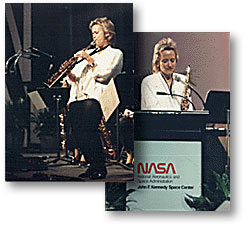 Artists have covered NASA's space and aeronautics triumphs for 26 years thanks to the NASA Art Program. But recently, the work of the Space Shuttle became the subject of a different medium - music. At NASA's John F. Kennedy Space Center, soprano saxophonist and composer Jane Ira Bloom recently premiered an opus in salute to the Space Shuttle Discovery. In his opening remarks, astronaut John Young spoke on the role of music in space.
Q: As a composer and musician, how does one set about to bring the space program to music?
A: Jane Ira Bloom collects impressions. She says, "Instead of concentrating on what I see, I try to concentrate just as hard on what I hear. I've come here to the NASA Dryden Flight Research Facility with a tape recorder and am recording source sounds, anything from the sound of the launch or the sonic boom before the landing to the wildlife sounds around the launch pad at Kennedy Space Center, or the sounds of technicians working in the huge assembly buildings, or the machinery working anywhere around the launch site."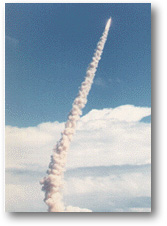 As the first musician in NASA's fine art program, Bloom joins an impressive number of well known artists such as Jamie Wyeth, Norman Rockwell, and Robert McCall who have already contributed to the NASA Art Collection, some of which is on permanent display or on international tour. With a team of artists whose talent encompass painting, color xerography and batik, Bloom spent the better part of a week at the Kennedy Space Center watching support crew prepare for the STS-26 "return-to-space" flight of Discovery.
Q: How does being on site help you as an artist?A: "We're documenting history and there's historical precedent for artists and journalists being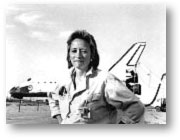 around when history's being made. I think painters, musicians, all artists, have a unique way of seeing, a unique vision of these events that photographs or news articles can never come close to. We had access to so much; we visited all the NASA facilities, met all the people who make things happen on the ground. To me that's a whole other resonance to the sound."
Following her experience in Florida and California, Bloom worked a full year developing a work that would reflect the sights and sounds of Discovery's return to flight. Bloom says the piece is a voyage from dynamism to grace:
"The launch is an incredible technical feat; great technological strengths are involved to allow the shuttle to break the gravitational pull of the Earth. You feel all the energy and dynamism involved and what that means...So I thought of unison brass, trumpets, a very heroic quality that's in their sound. And I thought of what part technology, music technology, would play in the piece and whether I was going to stress that or more conventional acoustic sounds.